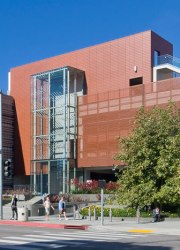 Terracotta Rainscreen Cladding
Manufactured under the 'Argeton' process, the natural beauty and symmetry of the façade is created by contrasting the smooth faced tile with the precise joint. Whether as the main theme cladding or as a feature, the clean lines and aesthetic charm of the Argeton Terracotta tile can be effectively designed in conjunction with the cladding components of glazing, curtain walling and stucco. Argeton is manufactured in thirteen captivating colors – Apricot Beige, Glacier Blue, Iron Grey, Light Grey, Natural Red, Pearl White, Platinum Grey, Red Brown, Sahara, Salmon Pastel, Sand, Tuscan Red and Volcano Grey. Tiles can be smooth faced, wire drag, engobe, riven or glazed.
The tiles are 30mm in thickness and fluted throughout their length to create a system weight of 10 lbs./ft2. The profile of the tile is intrinsic to its ability to perform as a rainscreen. The length of the Argeton tile can be from 150mm – 1500mm to suit the desired format.
RTS Assists Interra in the marketing of these products.