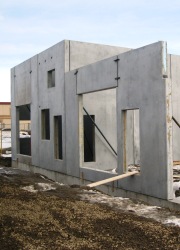 Pre-Cast Concrete
At RTS drafting and engineering services are provided for Pre-Cast Reinforced Concrete panels.
We provide drafting, detailing and engineering for reinforced concrete and component scheduling. We deal with projects of all sizes and complexity which has included warehouses, agricultural buildings, industrial buildings, workshops, soundwalls, showrooms and offices. We work closely with clients, basing our output on their preference of method for manufacture and installation, and provide a valuable outsourcing service to this specialised industry.
With people based in both the UK and Canada we are able to provide a fast turnaround and the time differences often enable double shifting during times of need. Information provided at the end of the Canadian day can be worked on during the UK day and information returned by the time the Canadian clients return to work the following morning and vice versa for work being carried out in Canada. Our Stourbridge base provides a central location to service the whole of the UK and our Calgary base offers us a central location to service the whole of Canada. As such we are able to provide services for clients around the world as a satellite office.
Please see below for a small sample of our Canadian Projects, if you would like more information regarding any particular project please email for further details.